Today I'll be showing you how to start affiliate marketing step-by-step!
What is Affiliate Marketing?
Affiliate Marketing is the promotion of another company's products. For each sale of the product you are paid a commission.
The process of how to start affiliate marketing is remarkably easy and I'll guide you step-by-step on what to do to take the first steps towards financial independence. While it's "easy" to start, there's no guarantee of success and this is not a "get rich quick scheme". It will take hours of dedication and grit to become successful in this field. I'm confident that you can succeed if you persevere!
Step 1: Choose a Niche you are passionate about
You can make money in any niche! Let me introduce you to the 10 Best-Selling Niches to Make Money Online:
1. Fitness and Weight Loss: People are obsessed with losing weight and staying in shape and are constantly looking for ways to help them do it.
2. Health: This is related to Fitness and Weight Loss. Nowadays more and more people want to take care of their bodies and mental well-being. CBD oils are an emerging trend in this field.
3. Dating and Relationships: There are a whole range of products in this niche. Anything from books, courses, and dating website memberships are available to promote.
4. Pets: People love their pets. It's not just dogs and cats anymore! There are all different kinds of animals being raised nowadays. Gourmet dog food, pet toys, treats, etc. are just some of the popular products in this niche!
5. Self-Improvement: This is a huge niche online and is also known as self-help. There are courses, books, videos, online training, coaching, and other products in this field that will help people to increase their confidence and build self-esteem. David Goggins is a popular figure in the self-improvement niche and is an example of someone turning their life around and achieving superhuman feats!
6. Wealth Building through Investing: Many people want to make more money but need help in order to maximize their potential. There are various products out there like books and courses to advise people on how to make investments in the stock market, budget, and save.
7. Make Money on the Internet: It's possible to make money on the internet. Informational products, courses, ebooks, coaching programs, etc. are all good avenues to take. Did I forgot to mention to become an Affiliate Marketer? That's a great way to make money on the internet!
8.Beauty Treatments: Many people wish to have smoother skin and less wrinkles. Looking younger is the goal of many people. Anti-aging cosmetic treatments, skin care products, etc. are a huge arena that's grown to nearly $532 billion in 2019!
9. Gadgets and Technology: People love gadgets and the accessories that increase the user experience. Everything from tablets, smartphones, phone cases, etc. Amazon Associates is a great way to get started selling these type of products to earn a commission.
10. Personal Finance: Many people need help with mortgage refinancing, debt relief, personal loans, etc. Prospects can be connected to expert providers or you can promote information products as an affiliate. Credit monitoring products is another option.
Step 2: Find and get an Available Website Name (Domain)
You can purchase a domain through Godaddy.
You'll need to type in your desired website name to see if it's available. You'll always always want a .com address but some good alternatives include:
.CO / .NET / .ORG / .IO
Through my Vultr Affiliate Link you can get webhosting through Vultr, a webhosting provider.
Step 3: Use WordPress to build your website
WordPress can be installed through Vultr. Below is the first video in a series that will teach you how to install WordPress.
Step 3: Use WordPress to build your website (Continued)
WordPress allows the use of "Themes" to customize the appearance of your website. You can purchase themes on Envato Market and install them. You can hire a WordPress developer from Upwork.com to install the themes and configure it for you but Youtube usually has step-by-step videos for many of the more popular themes out there. Doing this can save you money.
Another option is to build a WordPress website yourself. One option is provided by Elegant Themes.
Using the DIVI Builder provided by Elegant Themes is an easy and user-friendly way to make websites. It's a visual builder that makes web design achievable for novices.
There are two membership plans: Yearly: $89 and Lifetime: $249
The amazing option that you have with an Elegant Themes membership is that you can make websites for others and make money by building websites! You can do the same! The money you earn can be used to outsource workers to write blogs for you, optimize SEO, buy paid advertising to drive traffic, etc. When you are starting out and learning how to start affiliate marketing, you'll want to have a means of supporting yourself. Developing and creating websites for others is one way to do so until you make a decent passive income from affiliate marketing.
Step 4: Have a Brand Logo Made
The easiest way to get a logo made for you when you learn how to start affiliate marketing is to go to Fiverr.com (Affiliate Link with 10% off) and hire a freelance logo designer. You can have a logo made for you as low as $5! In my experience though, you'll want to go with the more expensive options because you can get a higher resolution file that you can use for other business related activities. The more expensive options can cost anywhere from $20+
Step 5: Apply to Affiliate Programs
The below are the 10 best Affiliate Programs that I've found:
1. ShareASale
The NBA Store is one brand that uses this platform to help them sell their products! Most of the products in this network are physical in nature.
2. ClickBank
Clickbank has a marketplace for mostly digital products although there are physical products as well. Digital products are much more lucrative as the commissions are higher due to the lower overhead costs of digital products.
3. JVZoo
This network has a lot of digital products but some products may not be that great. It's recommended to test the products yourself. (Note: Blog Reviews are great for driving traffic to your site!)
In order to partner with them you must have a website as they are one of the old school affiliate marketing programs out there. As one of the oldest and largest affiliate networks you'll be able to see some big brands here!
5. Rakuten
Some of the biggest brands in the online space like Amazon, Kohl's, etc. have partnered with Rakuten to offer a wide selection of products. You can be paid by either check or Paypal in 25 different currencies worldwide.
6. AvantLink
One of the more stricter Affiliate Marketing Programs, AvantLink denies over 80% of people who apply. Their product selection is great and they work with many of the world's top companies.
Any product on Amazon's platform can be sold although the commissions are not high and can be between 5%-10%. The benefit of people clicking on your affiliate link is that if someone makes a purchase of a different product you can get a commission on that product within 24 hours of your affiliate link being clicked. Many review websites and reviewers on Youtube use affiliate links from Amazon.
8. FlexOffers
A large and user-friendly affilate network that calculates commissions by cost per lead (CPL) and cost per action (CPA). If you have a website that has lots of traffic this may be a good option for you.
9. Impact
This network allows you to manage your own affiliate programs. They also have technology that tracks and optimizes affiliate marketing partnerships.
10. Google
Google allows you to find affiliate programs that aren't available in the above marketplaces. You may be using a unique product that has an affiliate marketing program. Search on google and see if you can find an affiliate program for it!
You'll want to find products that fit in your niche. Don't just put random products! You'll be given an Affiliate Link that you'll use for your pictures or text links. When your website visitors click on that link and make a purchase, you'll get a commission! As you learn how to start affiliate marketing over time you'll figure out what products your visitors like and don't like.
Note: You must always put a disclaimer stating that the links you use are affiliate links*
Step 6: Create Review Content (Video or Written)
Written: You can make blogs every week with review content for each affiliate product that you'd like to promote. This will increase your website rankings but you'll need to optimize each blog post via Search Engine Optimization (SEO) which I will discuss at a later time.
Video: Youtube is a great way to make content that's engaging and exciting for your audience. A smartphone camera is sufficient enough if you're just starting out. If your budget is bigger, you can get a more expensive DSLR camera and lighting to increase your production values.
Video Editing: You can use Adobe Premiere Rush to edit videos on your smartphones. If you want more robust software you can get the Adobe Creative Cloud Suite which includes Adobe Premiere but you'll need a desktop computer and monitor to edit video!
Step 7: Bring Traffic to your content
You have two options to bring traffic to your content. Free and Paid! It's best to do both to achieve optimal results.
Free: The best type of free traffic is "Search Engine Optimization" (SEO) With this method, affiliate marketers are trying to rank for the first page of Google/Youtube for specific keywords.
Keyword Example: "<Product Name> Review".
Keyword Example: Logitech G930 Headphones Review
Throughout your content, you'll want to mention your keyword throughout it. Yoast SEO is an excellent Plugin that can help you to optimize your blog articles that you make with WordPress. Below is a step-by-step tutorial on how to use it to optimize your posts! As you make more and more blogs with optimized keywords, you'll start to get more free "organic" traffic to your website.
Step 7: Bring Traffic to your content (CONTINUED)
Paid: Paid traffic is generally guaranteed views and traffic. The two main options when it comes to paid traffic platforms are Facebook Ads (Includes Instagram Ads) and Google Ads.
Links:
Google Ads
Facebook Ads
You have to be super careful when using paid traffic. It's a good way to lose a lot of money if you don't know what you're doing. I recommend finding Digital Marketing courses on Udemy.com or SkillShare.
Other paid traffic platforms: Quora, Reddit, Pinterest, Bing, etc.
Step 8: Build a Customer List through E-mail marketing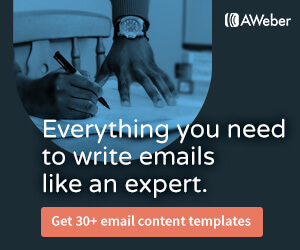 Cost: Free 30-day Trial and then $19/month afterwards
Why is a customer list effective? It's effective because you have a list of customers that love your content and products. You can regularly promote products that you know will benefit them. It's a win-win situation!
Did you learn How to start affiliate marketing?
This blog post was just a basic post on how to start affiliate marketing, but I hope that you all could learn the basics on how to get started! It will take weeks of hard work and optimizing your content, but I'm sure that you all will become awesome affiliate marketers! Remember, Affiliate Marketing is not a get rich quick scheme. It is a long process that can be rewarding if you stick with it. Good luck!